2022 Events Schedule
Here is a list of upcoming events to look out for this year. Dates are subject to change.
June 12 — Independence Day
August — Pista Sa Ngayon
December
Maligayang Araw Ng Kalayaan
June 12 Bataan park at 11:30am
Note: all are welcome to general membership meeting on June 11am at 10am San Ignacio Parish Hall and community center
This is a family friendly free event – Philippine Independence Day and Araw ng Kalayaan
Join us with community organizers, creative artists, and Zumba, Filipino Eskrima martial artist(s) demonstration, and community tabling of Filam businesses. Mobile vaccine event will also be available for kids (5-11yoa) and adults needing boosters.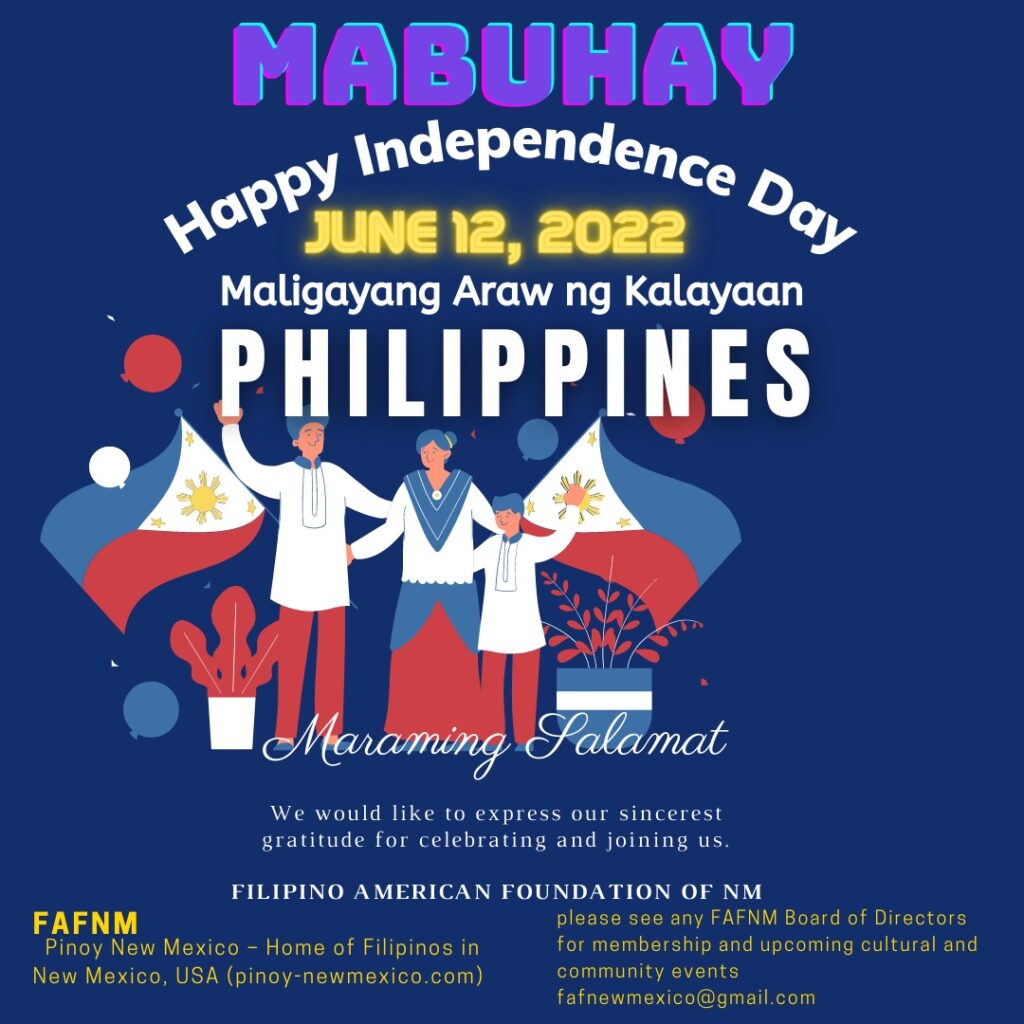 What we accomplished in 2021
A lot happened in 2021! To view events that passed early this year, visit: 2021 in Review. Below are some things that are already happening for 2022. Stay tuned for more events soon!
2022 FANHS National Conference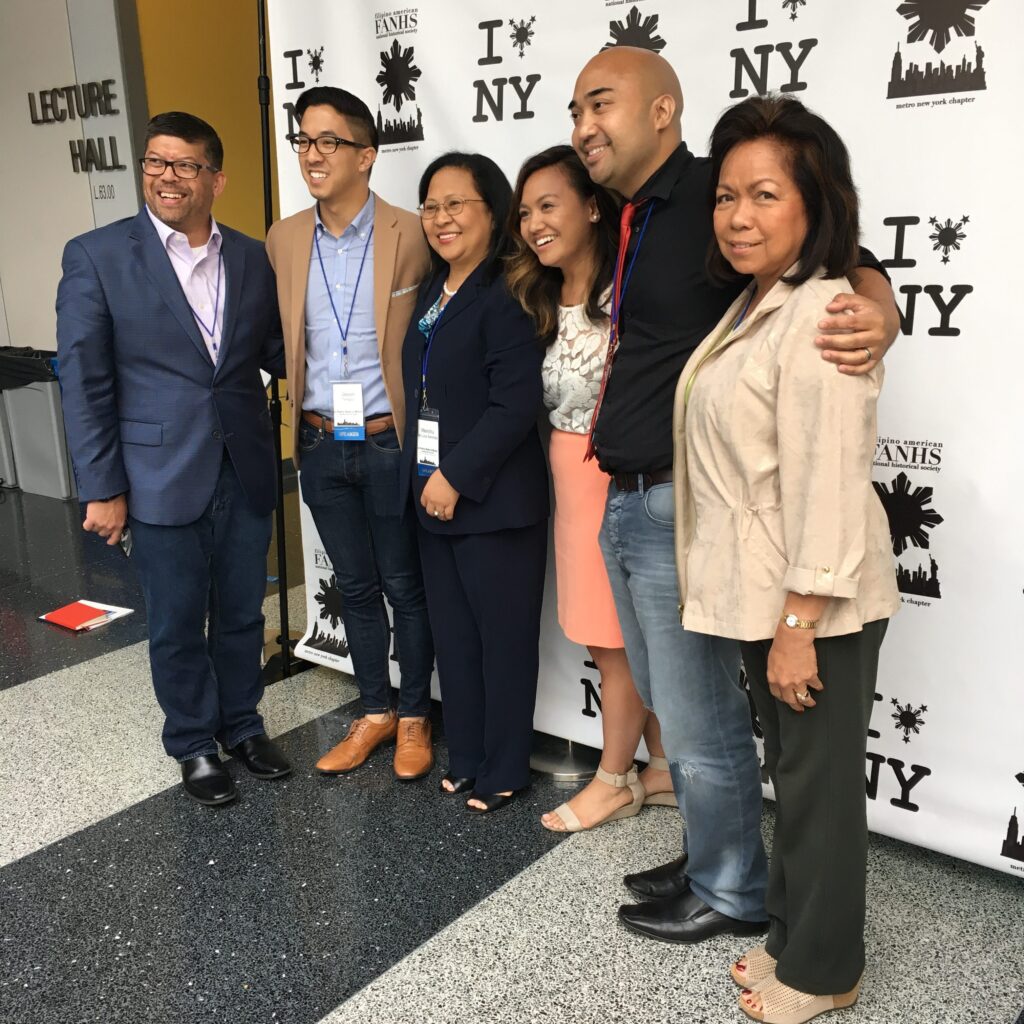 August 11 – 13, 2022, Seattle University, Seattle, WA: FANHS National Conference
Join us and meet members of the Filipino American National Historical Society (FANHS) all over the US in Seattle for the 40th Anniversary of FANHS.
Deadline for submitting papers: Jan. 15, 2022. To be a member, visit: FANHS Rio Grande.
Incoming Webmaster: Robert Nelson
If you have anything to be posted, please email Robert Nelson, FAFNM Vice-President, at [email protected]. He is the new webmaster of this website effective November 2021.
Word from the Outgoing Webmaster (Tessie Greenfield) of this website: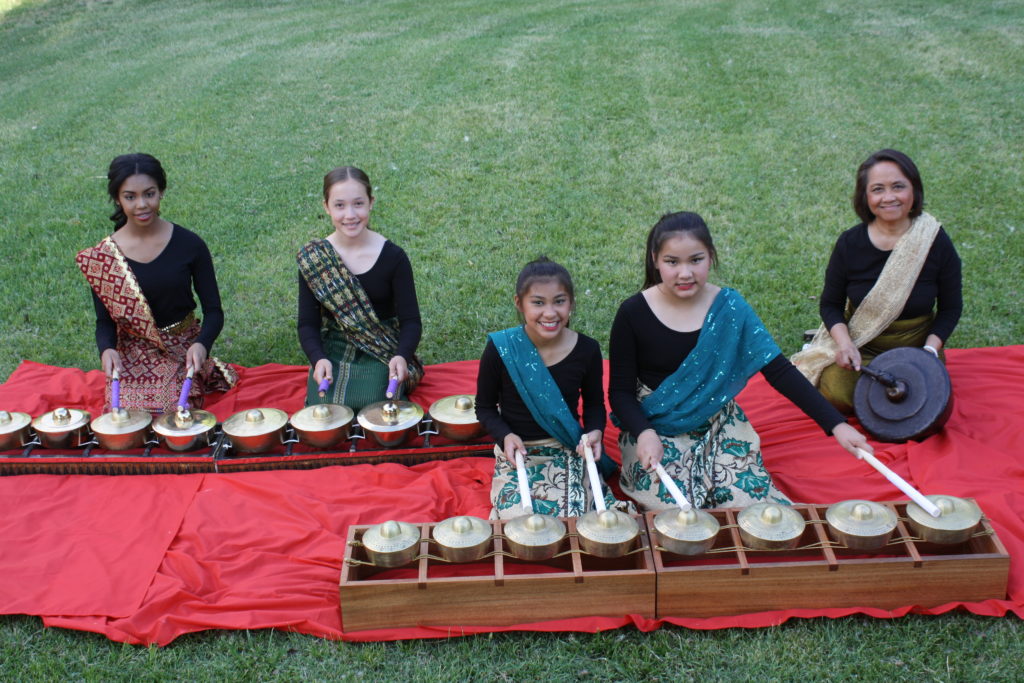 Aside from being involved in the cultural and oral/written historical activities of the Filipino community in New Mexico, I also volunteered as the website administrator of pinoy-newmexico for more than 10 years. This website is shared by three main non-profit organizations based in Albuquerque: FAFNM, FANHS Rio Grande, and FACC. We are adding the other Fil-Am groups such as the Filipino-American Nurses Association of NM next year, 2022. Unlike FB, we can leave historical or ongoing information on our website. This is not the only source of information for our community. Thanks to those who post our activities on their Facebook pages and groups and other social media outlets to expand the reach to all Filipino Americans in NM.
This website has been the source of current and historical information not just to Filipino Americans (including relatives and friends) but also to the media, student researchers, Filipinos moving here, and Asian and other ethnic groups. It has helped in fund-raising activities, soliciting grants, and coordinating/hosting national events in the past such as the FANHS National Conference and National Federation of Filipino American Associations (NAFFAA) Regional Conference. This website has also helped with posting notices on the Consular Outreach of the Philippine Consulate almost every year. It also helped in posting cultural activities co-sponsored by the Cities of Albuquerque and Rio Rancho and Bernalillo county.
Being a senior, it is time to pass this job to our younger generation who are more updated on technology and have more energy. It is a big commitment because it is not a job that is easily passed on every year. The web administrator is the guardian of accurate information and integrity, making sure that the website is not used for promotion of product/service or ideology.
Thank you to Robert Nelson ([email protected]), FAFNM Vice-President, who volunteered to fill in this job effective Nov., 2021. We thank key people for making this transition possible: Kristelle Siarza (FACC), Myrna Samson and Gwen Carla (FAFNM President & Treasurer), & Pearl King FANHS Rio Grande President & Fil-Am Nursing Assoc. of NM President. Thank you all for visiting this website.
Filipino Music
For those with cable, check out the Filipino music channel, 885!!!