Santacruzan 2021
After missing the 2020 Santacruzan due to the Covid19 pandemic, the Filipino American Foundation of New Mexico (FAFNM) revived the annual celebration of Santacruzan on May 30, 2021, Sunday at the St. Theresa's Catholic Church, attended by around 200 people. Anna Shibuya was Reyna Elena and Ethan Esparza was King Constantine (photo below). The event was celebrated by Archbishop John Wester, Fr. Joel Bugas, Pastor Vincent Paul Chavez and Deacon Leandro Centenerra. The event was chaired by FAFNM President Myrna Samson with Cora Romillo as consultant.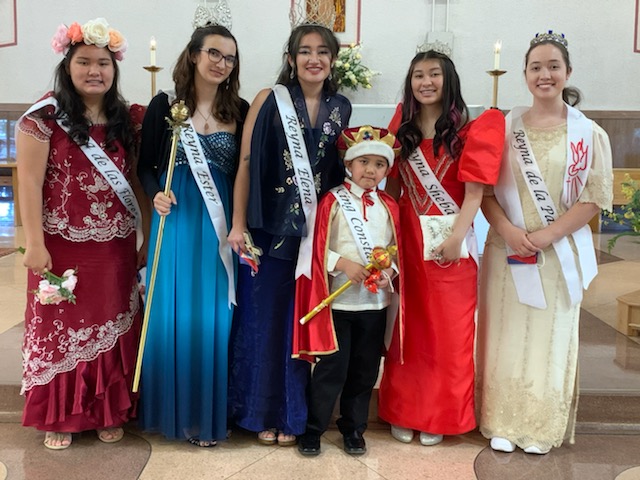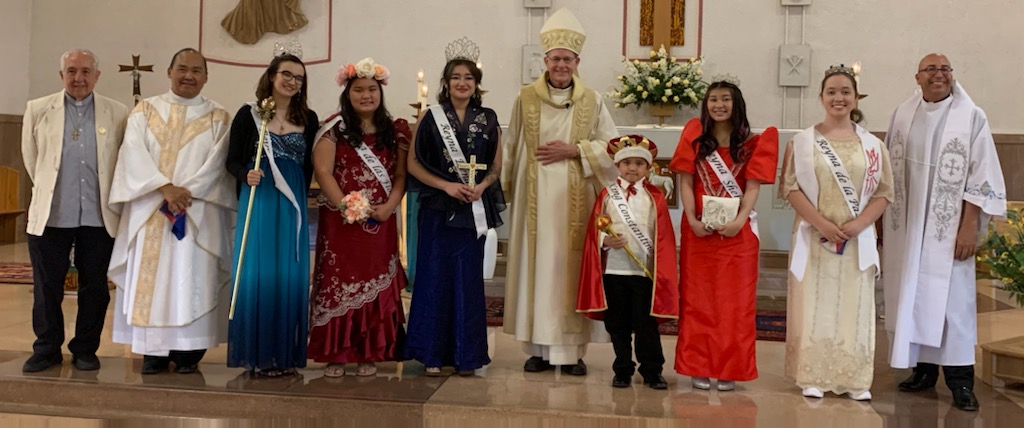 Chito Zafra, now 99 years old, (right photo) and her late husband, Eugene Zafra introduced Santacruzan in Albuquerque in 1977 which was traditionally celebrated at the Old Town Plaza. The left photo above shows his grandchild, Angela Armijo and great grandchild, Violet Ann Armijo receiving the Recognition and Appreciation Certificate in behalf of Chito from FAFNM President Myrna Samson.
After 44 years, this was the first year we missed Heddy Long who passed away in April. Heddy was one of the organizers of Santacruzan for decades. She was thinking of Santacruzan even during the last days of her life. Myrna Samson and Cora Romillo, other organizers, who were with her days before she passed away assured her that they would continue the tradition.
The Santacruzan Committee: Chair – Myrna Samson, Consultant – Cora Romillo, Music – Ariel Bondoc, Food – Annie Bondoc, together with the BOD of FAFNM. Photos courtesy of Maricar Castro and one from Gloria Kauz.
The event would not be possible without our donors: Carla Lanting Shibuya, Jane Anderson, Annie Bondoc, Philip Esparza, Pearl King, Jose and Nita Pascual, Cora Romillo, Myrna Samson, and Chito Zafra. Special thanks to all the Reynas and Sagalas and all the volunteers who continue to support this event for more than four decades.