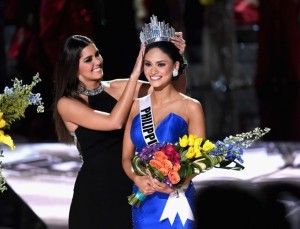 Goodbye 2015!
Miss Universe
To start off, on the INTERNATIONAL scene, a Filipina-German, Pia Alonzo Wurtzbach, was crowned Miss Universe 2015.  Pia is one of the 12 Miss Philippines who won international beauty contests.  See list: Filipina Women who won WORLD BEAUTY Titles.
---
LAS VEGAS, NV – DECEMBER 20: Miss Philippines 2015, Pia Alonzo Wurtzbach (R), reacts as she is crowned the 2015 Miss Universe by 2014 Miss Universe Paulina Vega (L) during the 2015 Miss Universe Pageant at The Axis at Planet Hollywood Resort & Casino on December 20, 2015 in Las Vegas, Nevada. Miss Colombia 2015, Ariadna Gutierrez (not pictured), was mistakenly named as Miss Universe 2015 instead of First Runner-up. Ethan Miller/Getty Images/AFP.  See VIDEO.
---
IN NEW MEXICO (2015)
Pearl King, FANHS RG President, graduated SUMMA CUM LAUDE from New Mexico Highland University in December 2015 with a Bachelor of Science in Nursing (among the many degrees she has).  She works as a nurse at the VA Hospital.  Congratulations, Pearl!  You deserve it!
December:  This month was the busiest for the Filipino community, particularly for the members and friends of the Filipino American Foundation of New Mexico.
Christmas Party, Dec. 12, Marriott at the Pyramid.  The new FAFNM Board of Directors were inducted by Consul Mary Jo Ramirez. Kudos to the organizers:  Cindy Aragon, Ligaya White and the BODs.
Consulate Outreach, Dec. 12, Marriott.  The Philippine Consulate staff was in Albuquerque to provide consulate services (passport renewal, dual citizenship, immigration issues among others) for Filipinos in New Mexico and surrounding states.  FAFNM has been hosting for several years.  Thanks to Ligaya White, Emilie & Cris Underwood and the BOD's for their assistance.
Caroling:  This is an annual fund raising project (mainly for Scholarship funds).  Thanks to all the hosts and donors, carolers and coordinators/musicians: Myrna Samson, Jim Custodio, and Robert Divero.
Simbang Gabi (Evening Mass Celebration): Filipinos and families celebrated this Filipino tradition for three Thursdays at the Sangre de Cristo Church.  Thanks to Fr. Joel Bugas who drove 10 hours (round trip from Clayton) to be with us during his off-days.  Thanks to the carolers who provided the music and to Emilie Underwood for consistently coordinating this event every year.
Lighting of Luminaries: The Bataan veterans lighted the luminaries at the Bataan Park, an annual tradition.
We thank the 2015 FAFNM Board of Directors for a job well done.  We acknowledge the dedication of the outgoing president, Ligaya White who held the position for two years (2014-2015).  She revived the Young Professional and Youth Committee and the Senior's Group.  (As you also know, we are grateful to our seniors who have also been the prime movers of many activities for many years:  Santacruzan, Simbang Gabi, and Caroling, among others.)
NOTE:  To see full view of photos in the gallery, double click on each photo, then double click again for larger view.  To return to text, click on the (<) arrow at the top right corner of the screen.
September:
The FANHS RG celebrated the biennial event, Pamana Awards Night, honoring New Mexicans, not necessarily of Filipino descent, who had substantially contributed community service to Filipinos here and in the Philippines.  We also recognized the Manoa Youth recipients.  See list and photos of awardees: Pamana Awards.
Scott Berry (Educate Bohol), one of the Pamana Awardees this year, went back to the Philippines with his wife, Zela in October.  We are grateful to Scott for changing the lives of many poor children in Bohol. He is very much a part of their lives now. See video: 2015 Educate Bohol.
July:
Crista Harner represented New Mexico at the Miss Philippines USA in Los Angeles.  She is the beautiful daughter of international singer, Jam Morales Harner and granddaughter of Carmenia Alfonso.  The title went to Chrystelle Joyce Volkmann of Missouri.
May (Asian/Pacific Heritage Month):
Graduation with top honors:  Carlo James (CJ) Aragon graduated Magna Cum Laude, University of New Mexico (UNM), Bachelor of Arts with double majors in Political Science and Foreign Languages.  He was the 2011 Manoa Youth and Outstanding Asian American Youth Awardee.  He is the son of Cindy and Cel Aragon.
Awardee:  Bianca White received the Outstanding Asian American Youth Award at the Asian Festival of Cultures sponsored by the Asian American Association of New Mexico and FAPAC Rio Grande.  She also received the Manoa Youth Award.  See Pamana Awards.  She is the daughter of Ligaya and Jery White.
Santacruzan:  Aside from our annual celebration (Mass, Procession and Cultural Show) which is co-sponsored by FAFNM and the City of Albuquerque Cultural Service, this year's Santacruzan was specially memorable.
Chito Zafra, 93, was recognized for introducing this event in 1977, making Santacruzan the longest (almost four decades) tradition the Filipinos have celebrated in Albuquerque, New Mexico.  Thanks to organizers (past and present): Heddy Long, Cora Romillo, and now Myrna Samson.
Chuy Martinez, our great supporter of the Filipino community, retired from the City of Albuquerque Cultural Services.  He has been an advocate of many Filipino activities, particularly the Santacruzan.  He received the Community Service Award from FANHS Rio Grande in 2011.  This was his last Santacruzan as a staff of the Cultural Services.  Thank you, Chuy!  You will always be a part of the Filipino community.
Others:
The annual Bataan Ceremony in April at the Bataan Park was attended by the Philippine Consul General Leo M. Herrera-Lim and his wife.  This is a joint project of FAFNM, FANHS RG and the Bataan Corregidor Memorial Foundation of NM (bcmfofnm).  Thanks to our FAFNM liaison members: Richard Luena, Chris Zafra and Dr. Dely Alcantara (also the president of bcmfofnm).
The first eBook, The Filipino American Experience in New Mexico, by the FANHS RG was released early this year.
Miracle McCastle performed her Kulintang Recital in March at the Dr. Martin Luther King Jr. Elementary School in Rio Rancho (her alma mater).  This was the final requirement of a 6-month project for the Folk Arts Apprenticeship Program of the New Mexico Arts (a division of the Dept. of Cultural Affairs) obtained by Tessie Greenfield, the kulintang instructor, to pass on the music of an ethnic instrument (from Southern Philippines), kulintang, to only ONE young apprentice.  Thanks to Dr. Dely Alcantara of FACC for introducing the grant.  Miracle is the youngest kulintang musician in New Mexico where there are only five who play it: Cristal Everette, Jenny DeBouzek, London Cabada, Tessie (all members of the Kulintang Ensemble of Albuquerque, 2005 – 2009) and Miracle.  Dustin Haberman who also plays it has moved out of state.  See samples on video: Kini Kini and Maiden Dance.
The FAFNM Cultural Dance Group performed twelve shows this year.
Dec.:  Christmas Party, Simbang Gabi, caroling and lighting of luminaries (with Bataan veterans) – annual projects of Filipino American Foundation of New Mexico.
Businesses Owned by Filipinos that opened this year
Deaths:
Marita Tambunting Tengco, passed away after a lingering illness.  She is survived by her husband, Tom Stewart, and daughter, Mirinisa Stewart-Tengco.  We thank Myrna Samson and the senior's group for hosting the Novena in her honor.
Leon Padilla, a close friend of the Filipinos and the Bataan veterans also passed away.  He was the secretary and vice-president (different periods) of the Bataan Corregidor Memorial Foundation of NM, whose father was a Bataan Veteran.
Cesar Guevarra, a singer and member of the defunct Maharlika Rondalla, passed away while on vacation in the Philippines.  He will be remembered for his Filipino love songs at the Pista sa Nayon and FANHS RG Book Launching.
If you have any Filipino activity or a milestone (wedding, births) in 2015 that we missed or posting here that needed to be corrected or included, please email puppetnettes@gmail.com or fafnewmexico@gmail.com.