Santacruzan 2017
(To view full images, double click on the photo and click again for bigger image.)
Santacruzan (40 years of celebration)
Around 250-300 people (including 100 sagalas, performers and volunteers) attended the annual  Santacruzan on May 20, 2017 at the Old Town Plaza which started with the Holy Mass at the San Felipe de Neri Church at 4 pm and followed by the procession and Cultural Show that lasted until 8 pm. This annual free event which is sponsored by the Filipino American Foundation of New Mexico (FAFNM) was introduced by Consuelo (Chito) Zafra, see top photo, (who celebrated her 95th birthday at this event) and her late husband, Eugene Zafra in 1977.  Other FAFNM members who have made this event possible for 40 years are: Heddy Long, Cora Romillo, Myrna Samson, Betsy Custodio and members of the Filipino community.)  The welcome speaker was Dr. Dely Alcantara, president of FAFNM and the Filipino American Community Council (co-sponsor of this year's event).  The Cultural Show (by the Ethan Sabay Philippine Folkloric Group and the Filipino Performing Arts Group) was also co-sponsored by the City of Albuquerque City Council and Cultural Services.  The event is usually scheduled on the third Saturday of May.  We hope to see you at the next Santacruzan on May 19, 2018!!! (Check our EVENTS page.)
"Santacruzan" is the word that Filipinos use to refer to "Santa Cruz de Mayo," a celebration in honor of our Blessed Mother.  The celebration commemorates Queen Helen's finding the Holy Cross during the reign of her young son, King Constantino.  It is believed that "Reyna Elena," "Rey Constantino," and their subjects asked for the intercession of the Blessed Virgin Mary to help them find the Holy Cross which had been taken away from the Christians by the infidels.  The "Santa Cruz de Mayo" is celebrated by a procession commemorating this historic event.  Throughout the procession, the song "Dios de Salve" is sung.
During the month of May in the Philippines, every evening, there is a town somewhere celebrating the "Santa Cruz de Mayo."  A town usually does it for nine consecutive evenings, like a novena.  On the ninth evening, the whole town has a fiesta.  Nine consecutive evenings are not practical here in Albuquerque. So, on Saturday, May 20th, we will celebrate the 9th evening.
"Santa Cruz de Mayo" is also referred to as "Flores de Mayo."  May is the month when flowers of all kinds are blooming in the Philippines, so the procession is adorned with colorful gay flowers.  For this reason, one of the queens in the procession is called, "Reyna de las Flores."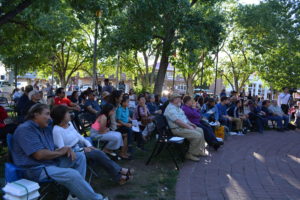 The participants in the procession are called "sagalas."  They represent the important individuals during the expedition and the angels and saints that were called upon to intercede for them.  The main characters in the procession are:  Reyna Elena, Reyna de las Flores, Reyna Sheba, and Reyna Esther.
Back to HOME.