Dr. Adelamar (Dely) Novino Alcantara
(January 19, 1948 – November 3, 2019)
We love you, Dely. You've touched our lives. Your legacy will live on.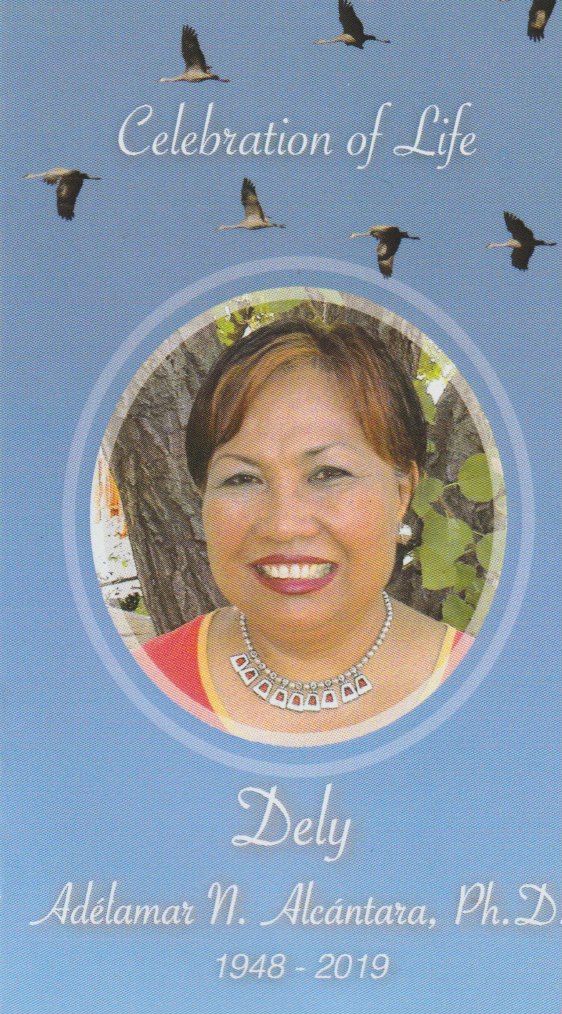 UPDATES:
A Quick Update from Dr. Ted Jojola
(n terms of the progress of Dely's journey home), Nov. 9, 2019:
Dear friends and colleagues: Thank you all for reaching out. Sorry I have been so remiss in returning calls and messages, but all of this was so sudden and overwhelming . They have picked up Dely's body from the airport now and took it to the funeral home in Chiba (Japan).

She will be cremated 2 pm on the 10th, Japan time. So that will be 10pm on 9th for The US.

Our Japanese friend who helped us there said her face is peaceful. Dely was returning home from the Philippines when she had a heart attack in Narita. She passed away within the hour after she collapsed so, thankfully, she did not suffer. One of our Hawaiian spiritual friends said, "I tried to 'feel' Dely's spirit after I got your message, but instead I got this powerful vision of your son Manoa reaching out to Dely with a huge smile while she was suffering her heart attack–she left with him instantly!". I leave next Tuesday with Dely's sister Digna to get Dely's ashes and effects at Tokyo. Then onto her family in the Philippines on Friday. I will return with her sister and her husband on the 23rd and bring back some of ashes here as she had wanted.
I wish you all continued good health. I have learned the hard way how important this is for all of us.
In lieu of flowers,
Please make a donation to Adelemar (Dely) Alcantara Memorial Fund, established by the Albuquerque Community Foundation. This fund will be disbursed to various organizations close to Dely. Here is a link: http://bit.ly/DelyMemorialFund
Events in honor of Dely:
Nine-Day Novena for Dely. 9-Days, (Nov. 7-15). Hosted by the Filipino American Ministry, Myrna Samson, 6419 Mendius St. NE. Schedule: Nov. 10 to 15, 3:00 pm. Please contact Myrna: mingsam18@gmail.com.
Dec. 13, Friday. Funeral Mass at Isleta Pueblo Mission Church followed by Memorial and Reception. Time and details – To be announced.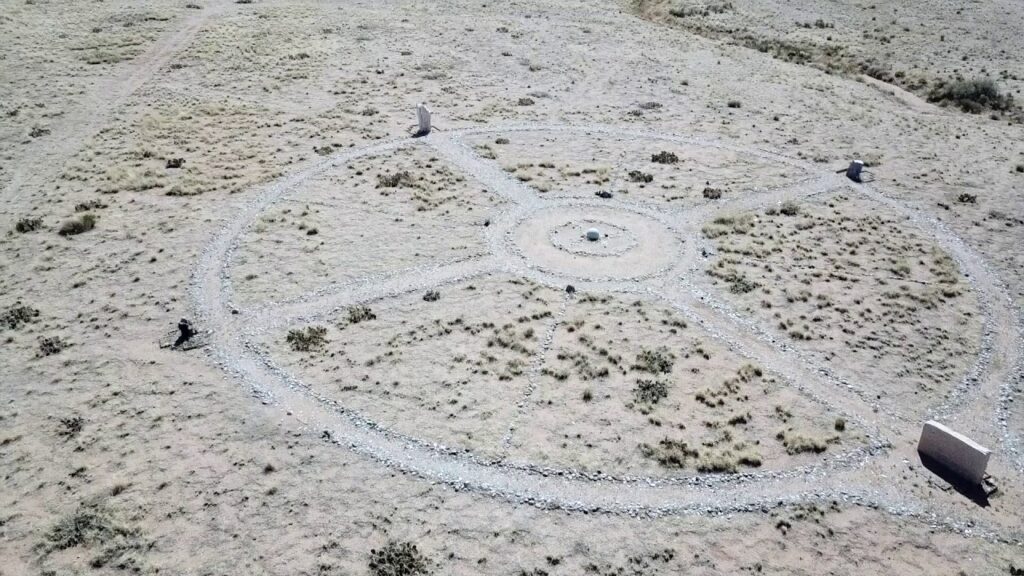 Thanks to:
Kyoko Sonoda, a family friend who also used to work at the NM Asian Family Center, for taking care of Dely in Japan.
Albuquerque Academy for opening the Medicine Wheel area from Nov. 4 to 7 to allow community to grieve and for hosting the gathering on Nov. 8.
NM Asian Family Center for co-sponsoring the event on Nov. 8 at the Medicine Wheel at the Albuquerque Academy.
Myrna Samson and Fr. Joel Bugas of the Filipino American Ministry for hosting the 9-day Novenas (Nov. 17-15).
Kristelle Siarza for the communications.
Shiela Jojola, Myrna Samson and and the Isleta Pueblo Mission Church for the Funeral Mass.
Thank you to all who came to the events. Hope to see you on Dec. 13.
Dr. Dely Alcantara, 2006

Dely with Dr. Ted Jojola at 2018 Santacruzan
The world mourns the loss of an amazing woman, Dr. Adélamar (Dely) N. Alcántara. Dely was a smart and dedicated woman who brought vision and passion to all that she did.

At age 71, she passed away on Nov. 3, 2019 while en route home from the Philippines. She was survived by Dr. Theodore (Ted) Jojola, PhD, a Distinguished Professor and Regents' Professor in the Community & Regional Planning Program, School of Architecture + Planning. She was preceded in death by her son, Manoa Alcántara Jojola.

Dely joined UNM in 1985, served as the New Mexico state demographer for decades, and served as the director of Geospatial and Population Studies since its founding in 2011.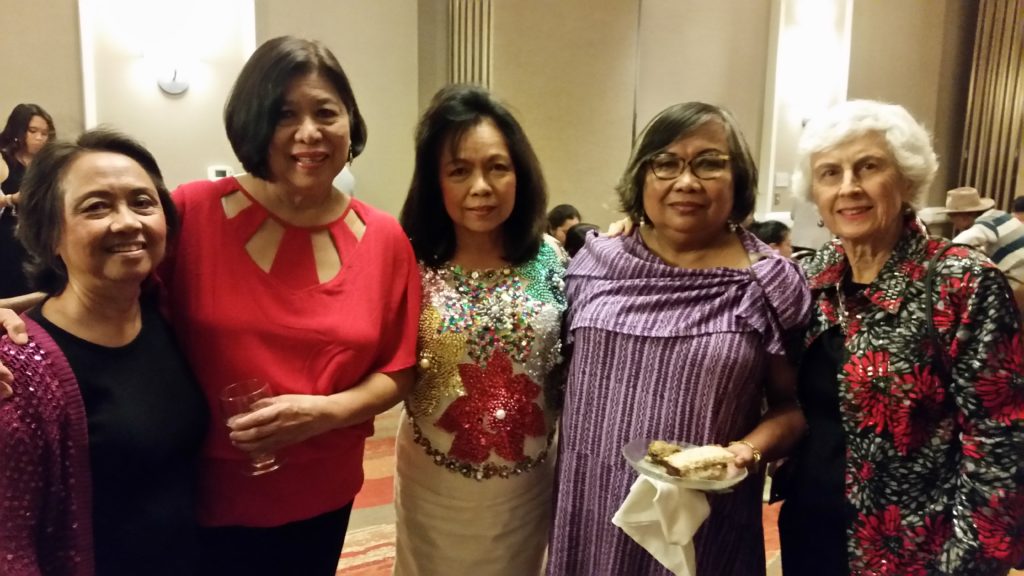 She worked well with people of diverse economic, racial, ethnic, and cultural backgrounds. She had at least 20 years of community organizing and non-profit management experience, and served as a community advocate for diversity, human rights and social justice.
Dely was the founder of the New Mexico Asian Family Center. She was a leader in the Filipino community, having been president of the Filipino American Foundation of New Mexico, Bataan-Corregidor Memorial Foundation of New Mexico, and the Filipino American Community Council, and also co-founding the Filipino American National Historical Society – Rio Grande. She received the 2018 Si Se Puede Award from Dolores Huerta at the National Hispanic Cultural Center's Cesar Chavez Day in Albuquerque.

Oct 12, 2019 – with staff of her MAJICAL School in Tarlac.

Dely with Ted, strolling in Tarlac, Philippines a month before she passed away.

Pearl King, Dr. Ted Jojola & Dr. Dely Alcantara with Manoa Youth runners up, Gabriela & Angelica Velez and awardee, Bianca White (2015)
In honor of her late son, Dely made significant contributions to the Albuquerque Academy and Tricklock Theater in honor of Manoa. She co-founded the Manoa Alcántara Jojola International Center for Arts & Language MAJICAL Learning Montessori School in the province of Tarlac, Philippines, where she was just visiting to help kick off the school year.
She was a stellar role model and mentor to everyone, with a sharp mind and humorous wit, wisdom, and courage.
By: Kristelle Siarza, siarza.net, Nov. 4, 2019. (Photos from this website, MAJICAL, Norma and friends.)
With FAFNM Members at Halle Manoa

With State Auditor Brian Colon

With Kulintang group from CA and friends
More about Dely:
Dely founded or/and pioneered the following:
Awards (See some articles or video clips)
Dely received a lot of accolades we could not keep track of. Among them were:
-Frank Miranda Most Prestigious Human Rights Award, 2001
-Governor's Award for Outstanding New Mexico Women by Commission on the Status of Women, 2004.
-Dolores Huerta Award, 2018 (During Cesar Chavez Day). View Dely on YouTube accepting the Dolores Huerta Award.
President of Organizations
Among the many organizations she led were:
-Asian American Association of New Mexico
-Bataan Corregidor Memorial Foundation of NM
-Filipino American Community Council
-Filipino American Foundation of NM
-Filipino American National Historical Society Rio Grande (She also served as Trustee for the National FANHS.)
-Heritage Council
READ article from the book published by FANHS RG, 2014:
Read: Dely (first article after she passed away): UNM ARTICLE ABOUT DELY.
Compiled by Tessie Greenfield for this website.
Related Events: Visit: Events.