(January 19, 1948 – November 3, 2019)
We love you, Dely. You've touched our lives. Your legacy will live on.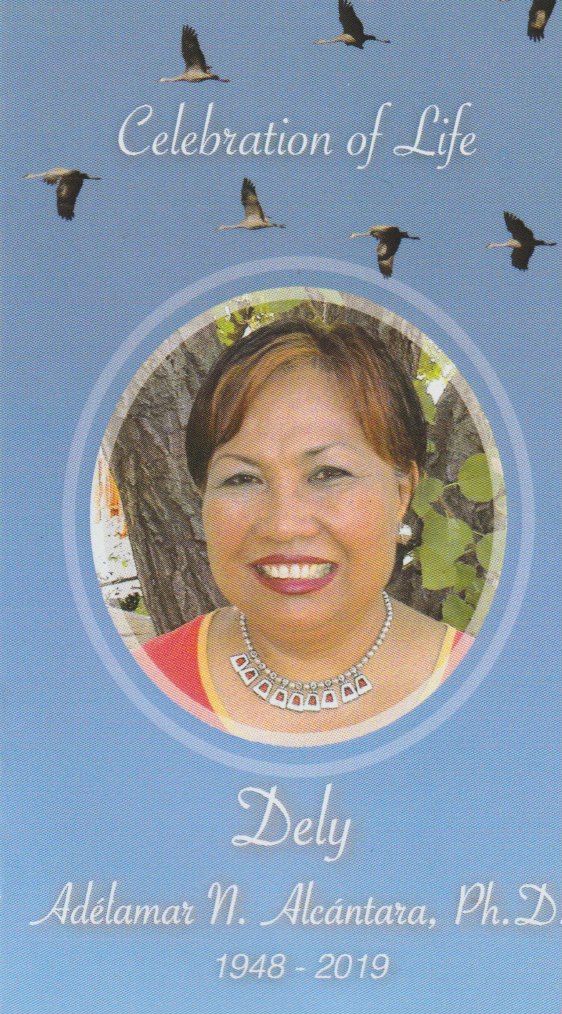 Mass and Memorial Service
Dec. 13, 2019, Friday
St. Augustine Catholic Church
71 Tribal Road 35, Isleta Village Proper, 87022
Take I-25 South, Exit 213 for Isleta Blvd (NM-314), turn left on NM-147E (Turn slight right to Tribal Road 40, slight left to stay on Tribal Road 40, slight left onto Tribal Road 42.). The church is located at the plaza. Please check your GPS just the same.
10:00 am – Mass
11:00 am – Memorial Service
12:00 noon – Reception
Contact Myrna (505-319-8821) if you have questions about the reception.
Any Memory of Dely?
Check "WRITE AN ENTRY" located at the bottom of this page and feel free to write your memory about Dely. THANK YOU.
In lieu of flowers,
Please make a donation to Adelamar (Dely) Alcantara Memorial Fund, established by the Albuquerque Community Foundation. This fund will be disbursed to various organizations close to Dely. Here is a link: http://bit.ly/DelyMemorialFund
Latest Press Releases and Video Clips:
Video Clips of FAFNM Christmas Party honoring Dely:
Dr. Christopher Gonzaga, medical doctor and composer, dedicates song, Di Na Magtatagal (It Won't be Long) to Dely's legacy.
Past Presidents of FAFNM Recognized as a continuation of her legacy
A great leader and friend
Written on Nov. 4, the day after Dely passed away, by Kristelle Siarza, siarza.net (Photos from this website, MAJICAL, Norma and friends.)
The world mourns the loss of an amazing woman, Dr. Adélamar (Dely) N. Alcántara. Dely was a smart and dedicated woman who brought vision and passion to all that she did.
At age 71, she passed away on Nov. 3, 2019 while en route home from the Philippines. She was survived by Dr. Theodore (Ted) Jojola, PhD, a Distinguished Professor and Regents' Professor in the Community & Regional Planning Program, School of Architecture + Planning. She was preceded in death by her son, Manoa Alcántara Jojola.
She was survived by sisters Aurora Alcantara, Digna Pena, and brothers Elilberto Alcantara, and Noel Pedro Alcantara. (She was preceded in death by her brother, Alejandro Alcantara, Jr.)
Dely joined UNM in 1985, served as the New Mexico state demographer for decades, and served as the director of Geospatial and Population Studies since its founding in 2011. She worked well with people of diverse economic, racial, ethnic, and cultural backgrounds. She had at least 20 years of community organizing and non-profit management experience, and served as a community advocate for diversity, human rights and social justice.
Dely was the founder of the New Mexico Asian Family Center. She was a leader in the Filipino community, having been president of the Filipino American Foundation of New Mexico, Bataan-Corregidor Memorial Foundation of New Mexico, and the Filipino American Community Council, and also co-founding the Filipino American National Historical Society – Rio Grande. She received the 2018 Si Se Puede Award from Dolores Huerta at the National Hispanic Cultural Center's Cesar Chavez Day in Albuquerque.

In honor of her late son, Dely made significant contributions to the Albuquerque Academy and Tricklock Theater in honor of Manoa. She co-founded the Manoa Alcántara Jojola International Center for Arts & Language MAJICAL Learning Montessori School in the province of Tarlac, Philippines, where she was just visiting to help kick off the school year.
She was a stellar role model and mentor to everyone, with a sharp mind and humorous wit, wisdom, and courage.
From Dr. Ted Jojola
(Written on Nov. 9, 2019, six days after Dely passed away. )
Dear friends and colleagues: Thank you all for reaching out. Sorry I have been so remiss in returning calls and messages, but all of this was so sudden and overwhelming . They have picked up Dely's body from the airport now and took it to the funeral home in Chiba (Japan).
She will be cremated 2 pm on the 10th, Japan time. So that will be 10pm on 9th for The US.
Our Japanese friend who helped us there said her face is peaceful. Dely was returning home from the Philippines when she had a heart attack in Narita. She passed away within the hour after she collapsed so, thankfully, she did not suffer. One of our Hawaiian spiritual friends said, "I tried to 'feel' Dely's spirit after I got your message, but instead I got this powerful vision of your son Manoa reaching out to Dely with a huge smile while she was suffering her heart attack–she left with him instantly!". I leave next Tuesday with Dely's sister Digna to get Dely's ashes and effects at Tokyo. Then onto her family in the Philippines on Friday. I will return with her sister and her husband on the 23rd and bring back some of ashes here as she had wanted.
I wish you all continued good health. I have learned the hard way how important this is for all of us.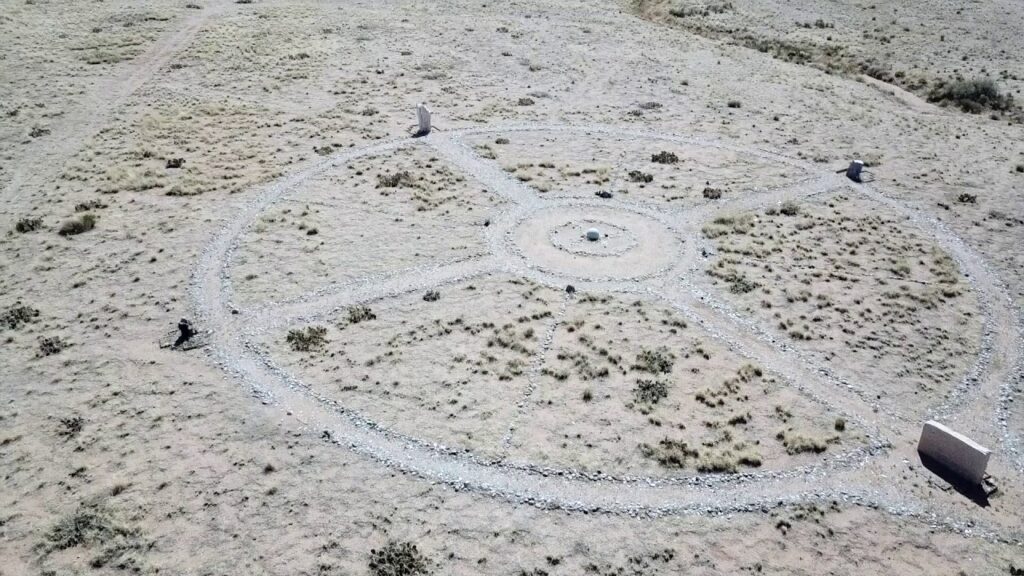 Thanks to:
Albuquerque Academy for opening the Medicine Wheel area (photo) from Nov. 4 to 7 for allowing the community to grieve and for hosting the gathering on Nov. 8.
Kyoko Sonoda, a family friend who worked at the NM Asian Family Center, for taking care of Dely in Japan where Kyoko now resides.
NM Asian Family Center for co-sponsoring the event on Nov. 8 at the Medicine Wheel at the Albuquerque Academy.
Myrna Samson and Fr. Joel Bugas of the Filipino American Ministry for hosting the 9-day Novenas (Nov. 7-15) at Myrna's Place.
Kristelle Siarza for writing about Dely (first article above) and for coordinating the communications.
Sheila Jojola and Myrna Samson for coordinating the Memorial service and reception and all those who brought food.
Isleta Pueblo and St. Augustine Catholic Church for the Mass and Memorial service.
Filipino American Foundation of NM (with Dr. Christopher Gonzaga of Gallup) for honoring Dely at the annual Christmas Party (Dec. 7, 2019) by recognizing her legacy.
Filipino American National Historical Society Rio Grande and the Filipino American Community Council (two organizations Dely founded) for putting together this page (and all the video links).
Thank you to all who came to the events.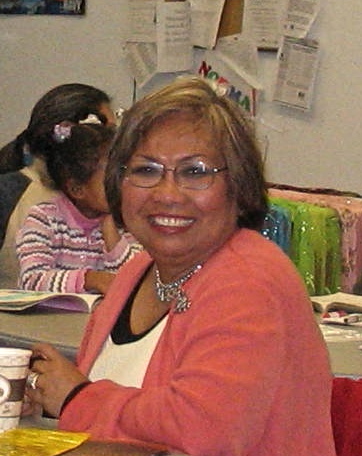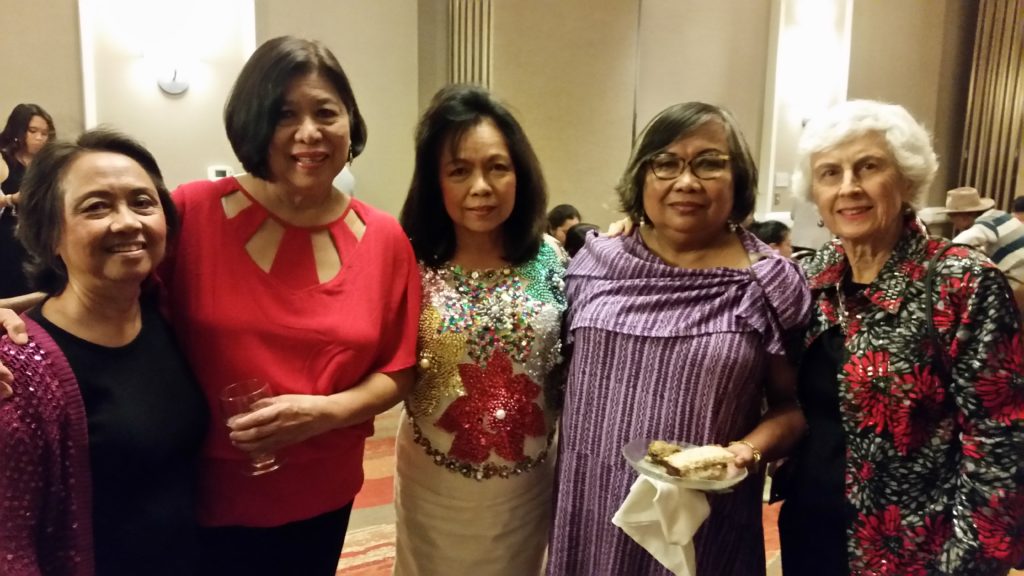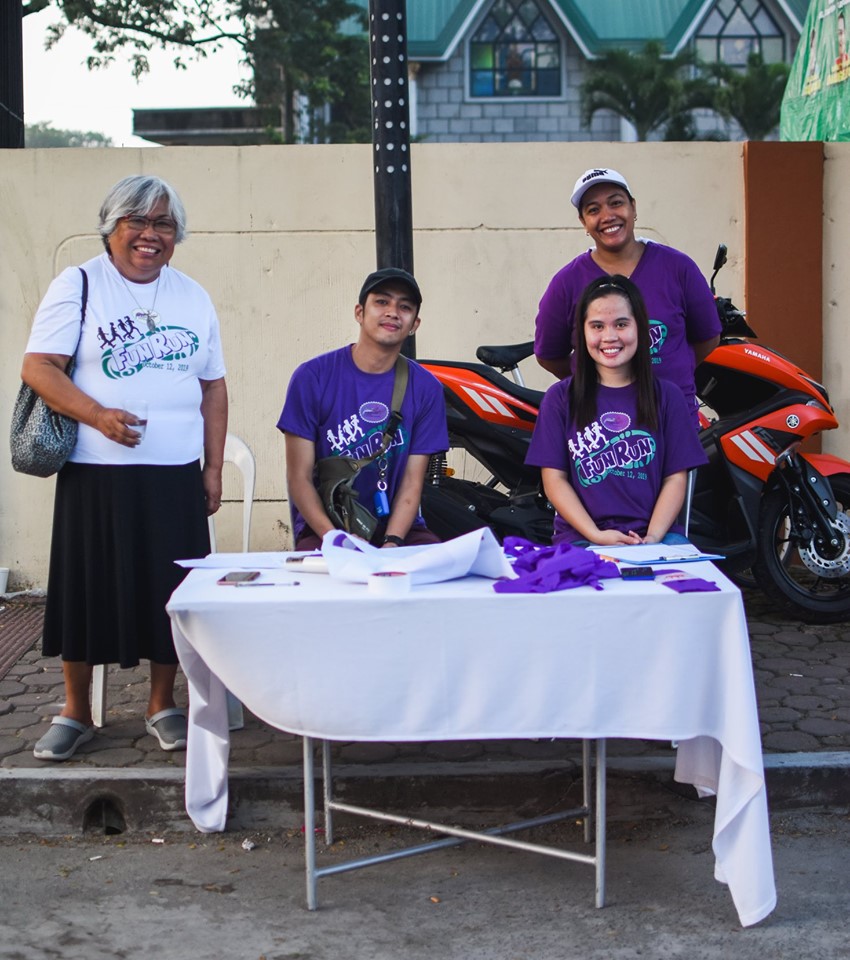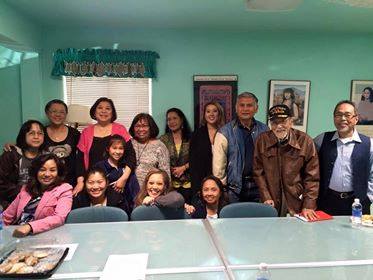 More about Dely:
Dely founded or/and pioneered the following:
Awards (See some articles or video clips)
Dely received a lot of accolades we could not keep track of. Among them were:
-Frank Miranda Most Prestigious Human Rights Award, 2001
-Governor's Award for Outstanding New Mexico Women by Commission on the Status of Women, 2004.
-Dolores Huerta Award, 2018 (During Cesar Chavez Day). View Dely on YouTube accepting the Dolores Huerta Award.
President of Organizations
Among the many organizations she led were:
-Asian American Association of New Mexico
-Bataan Corregidor Memorial Foundation of NM
-Filipino American Community Council
-Filipino American Foundation of NM
-Filipino American National Historical Society Rio Grande (She also served as Trustee for the National FANHS.)
-Heritage Council
READ article from the book published by FANHS RG, 2014:
Read: Dely (first article after she passed away): UNM ARTICLE ABOUT DELY.
Compiled by Tessie Greenfield (FANHS RG with help from FACC) for this website.
Write an Entry
NOTE: You will not see your new entries right away. We filter for spams first. They will show up in a day or two. Thanks so much.
7 entries.
Adelamar is an unusual name for a woman, but being simply Dely as she presented herself in her honest and caring ways, is how Dely will always be remembered. And who is to forget her unusually enormous gifts of community building, leadership, and friendship? Who is to forget the extent of time and effort she gave visiting Espanola with Ted, despite the limitations of her physical condition, simply to express her caring for friends and community? Who is to forget her generous donation, through the FANHS-Rio Grande, to the Center for Babaylan Studies to foster its work on indigenization and decolonization? Who is to forget her seeming tirelessness, her dedication to the Filipino-American cause, and to all communities, in general? Nothing could stop her, she was simply the passionate epitome of "Yes, I can!, Yes, we can!" that I have been fortunate to witness, together with my partner, Rusty who admired her greatly. Dely (with Ted's constant support) helped facilitate the intergenerational exchange at the University of New Mexico a few years back. It was a cultural exchange that brought together a number of elders and youth from the Filipino American, Native American, and Hispanic communities of Espanola, Ohkay Owingeh, Santa Clara, Isleta. and Albuquerque. She helped illuminate the vision of communities learning from and teaching one another, in the tradition of the indigenous core value of "kapwa" in Filipino; which is the ancient wisdom of expressing love through interconnection and interdependence; that all beings, whether human or non-human, are heir to. To you Dely, our "kapwatid", our sister, you shall live forever within our hearts. Mabuhay ka!
Dely was an outstanding scholar, community activist and the founder of FANHS Rio Grande Chapter. She and her husband, Ted, graciously hosted both Fred and I when we first visited Albuquerque in 1997. This has been a sad year or so for FANHS which has lost luminaries - Gil Pilapil, Albert Acena and Dawn Mabalon and now Dely. Please extend Ted condolences and prayers from FANHS National.
Dely was an inspiration to those who knew her. She had a vision, mission, and goals in life. Her passion reflected in the different endeavors she took on. Over the years, both Dely and her husband (Ted) worked on several projects in memory of their beloved son (Manoa). Dely also helped with the different organizational entities adhering and reminding people of its rules and regulations. She was an educator, mentor, supporter, advocate, leader, and a friend. In late 2018, she helped me obtain the Lea Salonga tickets for the 04/09/2019 show at UNM's Popejoy Hall. I will certainly miss you, Dely. Rest In Peace.
Thank you Dely for your vision and passion to make a better world for us. I'll never forget our visits in New Mexico during our FANHS gatherings. Thank you for sharing these special moments with many of us. You have been my role model to never give up your passion. Rest in peace Dely.
Dely Alcantara believed in me so much. Her support, friendship, and scholarship got me to where I am today. My life would have been sooo different without her. I'm so so so grateful to all that she did for me. I'm also so glad she was such a Wonderful friend to my mom. Rest In Peace.
Dely was "our big ideas" source and she had plenty of ideas! She was also very good at finding others who were able to grasp enough of the idea to be able to supply the "nuts and bolts" parts. This made it possible for her to nurture growth in others while working on more than one project at a time. We will never be so blessed as to see the "likes" of her again!
Dely was unstoppable. She was thinking of running for office when she retired. I told her she was crazy and that if I could not stop her, her gout would. As a leader, she always listened even if I did not agree with her. She valued my opinion and we would come to a solution. Game over and we'd have lunch! Lastly, she was a champion in writing grants, one of which was kulintang workshop. I owed my kulintang skills to her and Ted. She also got me the grant on puppetry for 6 years with the Asian youth through the Asian American Association and later the Asian Family Center. She recognized the value of creative arts. Who will be writing grants now?
Related Events: Visit: Events.